Hotel Finca Chipitlán with temazcal and holistic space, Hotel in Cuernavaca, which was born with the function of providing a quality accommodation taking up the concept of where to sleep; of the old Posadas and Mesones; adapting this service with the comforts of contemporary life and having the opportunity to enjoy all that Cuernavaca has to offer. We are Hotels near the Historic Center of Cuernavaca.

Our Mission : Provide an atmosphere of trust through a personalized service, providing a pleasant experience in our visitors to exceed their expectations.

Our Vision: To position ourselves as an extraordinary place of excellence in the city of Cuernavaca, the Spring of Mexico.

Hotel in Cuernavaca Finca Chipitlán Holistic Space Temazcal Prehispanic Spa near the Historic Center of Cuernavaca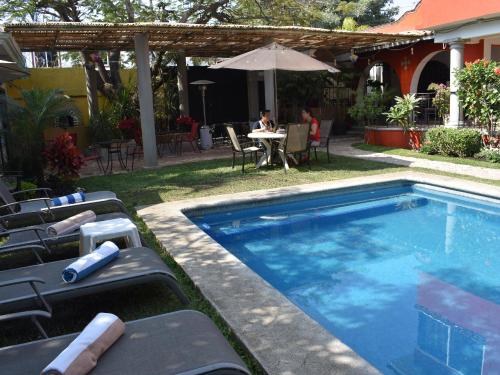 Our values
Honesty

Respect

Cordiality

Puntuality




For your rest and relaxation we offer gardens, terraces, hammocks, 2 pools at room temperature, gardens, Terrace Restaurant bar,

The Coffee of the Finca,

Temazcal, Holistic Space, wifi, parking.

The Café de la Finca,

is located within the facilities of the Hotel Finca Chipitlán. It offers a cozy atmosphere, with a simple gastronomic proposal, with products of proximity.

The letter is simple and explanatory. The breakfasts are varied and tasty.

For lunch and dinner you can find all kinds of meats: fish, chicken, pork, beef, with a wide variety of pasta, rice, vegetables. Ask about our ethnic dishes, inherited traditions, with contemporary details.

It is an ideal place to spend a long time with family and friends, a space that invites you to stay, to enjoy, to share food and after-dinner,

In the central part of the garden stands a beautiful tabachín, leafy tropical tree, considered one of the most colorful in the world that shelters some tables with its shade.

All the above you will enjoy it, but what you will remember is the personalized attention

It's so tasty, it does not even look healthy

Our restaurant is open to the general public, so we ask you in the most attentive way that minors and pets remain in the area under care and supervision.
Pet friendly hotel. We accept pets, upon request. We are the hotels that accept pets. We only ask you to be aware of your pets.
Our Rates
include breakfast and taxes.
Being that Finca Chipitlan is a bed & breakfast hotel.
Rooms Bungalow Suites Temazcal prehispanic Holistic Space Spa Restaurant Bar at Hotel Finca Chipitlán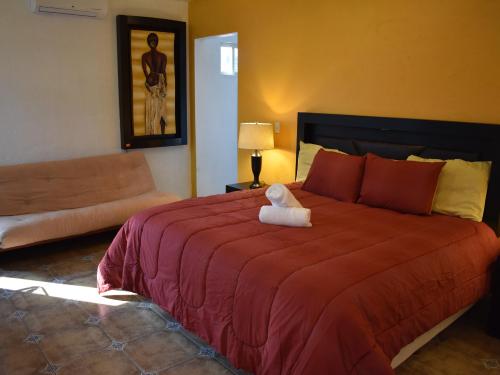 We are a Hotel in Cuernavaca that has 10 rooms:
8 Suites, with King size bed, Smart TV, air conditioning and refrigerator.

1 Bungalow, 1 queen size bed, 1 double bed, 1 futon, stay, kitchenette, refrigerator, air conditioning and terrace
2 rooms. With queen size bed; flat screen and air conditioning.
We accept Visa, Mastercard, American express, Fonacot credit.
Finca Chipitlán is one of the Hotels participating in the promotions of Viajemos por México