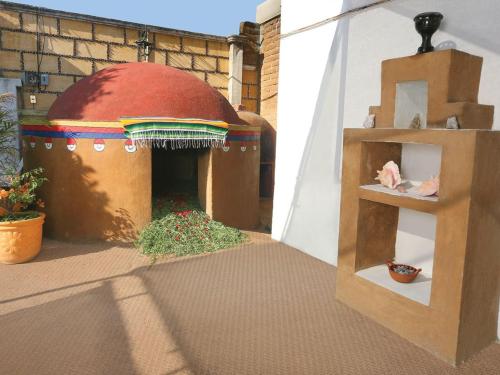 The term Temazcal comes from náhualtl: Temaz (bath) and Calli (house).
At Finca Chipitlán Hotel, our pre-Hispanic Temazcal, is called Metztli, and since its construction, was careful not to use "dead" elements: sand, gravel, rods, (processed elements). It was built by a shaman from Oaxaca. Its construction was totally attached to tradition; with adobe, mud, tezontle, "living" elements that breathe. And the stones that are heated are volcanic.
Returning to the traditions of the people of our Peoples, the Metztli Prehispanic Temazcal, offers a therapeutic bath, where the elements are combined:
• Water • Earth • Wind • Fire
Temazcal Prehispanic Metztli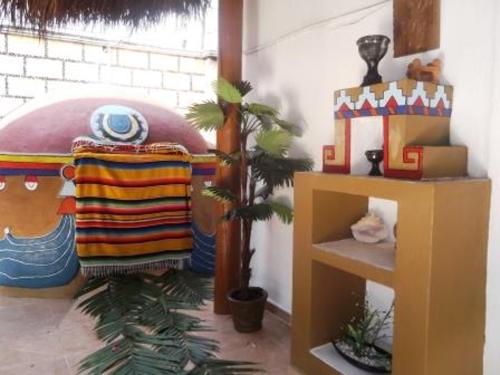 Since with heat (thermotherapy), water (hydrotherapy), use of medicinal plants (herbal medicine), allows us to find a balance in the physical, mental and spiritual body (psychotherapy).
Entering a Temazcal attached to Tradition, symbolizes having an experience of when we were in the maternal womb (Mother Earth), with volcanic stones, which represent the ovaries, which were heated with dry tree firewood of natural old age.
The entrance is a small access, we have to tilt to enter, (symbolizes having a gesture of humility) inside that warm space, (thermotherapy), you pour the infusion of aromatic medicinal herbs to hot volcanic stones, ( aromatherapy), transforming into steam (hydrotherapy) which enters through our pores that will be dilated, converting the skin into a third kidney; giving way to a process of elimination of toxins and elimination of uric acid, cholesterol, among other therapeutic benefits for symptoms such as:
Sinusitis, bronchitis, recurrent flu, asthma. With the combination of temperature, steam and aroma of medicinal herbs, the blood flow is activated, causing an uncovering of the respiratory tract; thus, lungs and bronchi expand, expelling toxins.


Removes dead skin cells


It helps you lose weight


Excellent for rheumatic diseases, arthritis, sprains, strains and atrophies due to bad postures, giving way to muscle relaxation.


Combats pathogenic organisms that cause infections; since the high corporal temperature and of the Temazcal environment, inhibits the microbial reproduction, accelerating the corporal reactions (like the immunological system), facilitating the repair.


Stimulates the activity of intestines and kidneys.


For rheumatic, arthritic, circulation problems. Excellent to stimulate all internal organs.


Cleans the nasal and paranasal sinuses, thanks to the effect of heat and the inhalotherapy that is carried out by breathing the aromatic vapors of medicinal plants. helping in cases of sinusitis, colds, asthma, bronchi.


It helps fight stress, insomnia, nerves. During and after the bath, the body relaxes, the organism stimulates itself, cleanses, purifies, creating a bridge towards its interior, where it will connect with its soul and spirit; giving way to a sensitivity and elevation of consciousness.



For that reason and many other things, we recommend a Prehispanic Temazcal Bath, attached to tradition, as the most integral and natural Therapy. It will be a Health experience that you can live in a temazcal in Cuernavaca.



Let's take advantage of this Millennial Wisdom.
We also offer Special Temazcales:
Bridal and renewal of Vows


Change of Station


Temazcal Ceremonial with dance and ritual (minimum 12 people)


Emotional. For people who have sadness, or who can not overcome a grieving process.


For children (suitable for all ages)


Special temazcal for people with low platelets



Recommendations:
Bring swimsuit, for women, preferably 2 pieces or with a short and top is fine, this is in order, that the benefit of the temazcal, penetrate the belly.


Bring warm clothes for when the session ends. It is recommended to enter without accessories such as earrings, bracelets, necklaces, as they get hot and can be uncomfortable.


Flips flops


Not having consumed alcoholic beverages 24 hours before


Not being menstruating


Not having consumed food at least 3 hours before. It is not convenient to enter fasting.


No smoking inside the temazcal


Hygiene:


We recommend a shower before taking your temazcal, massage or any treatment.
Privacy:
Our people will treat you with respect and professionalism. If you like, we have disposable clothes. His body remains always covered in intimate areas.
Cost $ 525.00
Includes: Temazcal Session, Rest Room, sheets, towels, teas, seasonal fruit plate, aroma and music therapy.

Ask about our Weekend Packages.
The Temazcal timetable is from 1:00 p.m.
Tuesday and Thursday without service.
Let's all travel through Mexico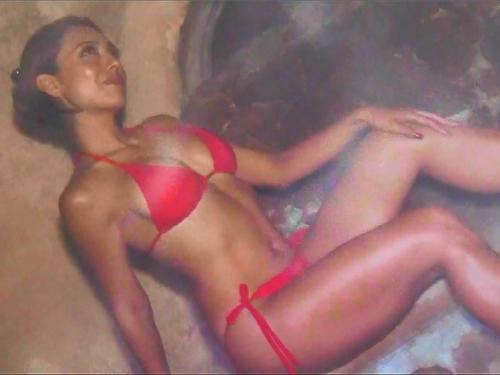 Beneficios terapéuticos para síntomas como:
Sinusitis, bronquitis, gripas recurrentes, asma. Con la combinación de temperatura, vapor y aroma de las hierbas medicinales, se activa el flujo sanguíneo, provocando un destape de las vías respiratorias; así, pulmones y bronquios se expanden, expulsando toxinas.


Elimina células muertas de la piel


Ayuda a bajar de peso


Excelente para padecimientos reumáticos, artritis, esguinces, torceduras y atrofias por malas posturas, dando paso a un relajamiento muscular.


Combate organismos patógenos causantes de infecciones; ya que la alta temperatura corporal y del ambiente del Temazcal, inhibe la reproducción microbiana, acelerando las reacciones corporales (como el sistema inmunológico), facilitando la reparación.


Estimula la actividad de intestinos y riñones.


Para problemas reumáticos, artríticos, de circulación. Excelente para estimular todos los órganos internos.


Limpia los senos nasales y para-nasales, gracias al efecto del calor y por la inhaloterapia que se lleva a cabo por medio de la respiración de los vapores aromáticos de plantas medicinales. ayudando en casos de sinusitis, catarros, asma, bronquios.


Ayuda a combatir estrés, insomnio, nervios. Durante y después del baño, el cuerpo se relaja, el organismo se estimula, limpia, purifica, creando un puente hacia su interior, donde se conectará con su alma y espíritu; dando paso a una sensibilidad y elevación de conciencia.



Por eso y muchas cosas más, recomendamos un Baño de Temazcal Prehispánico, apegado a tradición, como la Terapia más integral y natural. Será toda una experiencia de Salud que podrás vivir en un temazcal en Cuernavaca.



Aprovechemos ésta Sabiduría Milenaria.